Anastasiya – executive director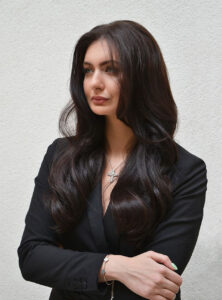 My name is Anastasia and I come from a city where war has been raging for many years. Before my eyes, people were burying loved ones, they lost everything they had acquired, they lost themselves. It is one thing when you read about the war in the press or see it on television. But you perceive everything completely differently when everything happens right here, at your home, with your family. Then the first impulse of thought was born, how I can help people. Due to certain circumstances, I moved to the Czech Republic. I graduated from university and found a job. With my first pay, I started helping those in need: these were monthly donations for sick children, assistance to WWII pensioners for repairs, acquaintances for treatment, orphanages in the Czech Republic, large families and many others.
Over time, I realized that my earnings were not enough to help many. On my way I met a wonderful person, , whose life was not really full of roses. She was my curator, director and her name is Oksana. Actually, she came up with the idea of ​​opening the foundation. A place which would provide assistance to those who find themselves in difficult life situations: single mothers, teenagers and people from orphanages, large families and many others in need of help. I considered it an honour to be a co-founder of this organization.
My mission is to create a moral platform around me, consisting of kind, merciful and decent people. I know that there are many of them, and I believe that together we can change life for the better!
In today's world, we are all too busy with ourselves and forget to look around. We should not pass by someone else's grief, because our personality is determined by good deeds committed in life. Our projects will help change the vector of life for a large number of people. Together with you, we can save lives and give faith in the best!
Charity makes us more courageous and wiser, charity makes us human. After all, it is possible that someday we will need help ourselves.